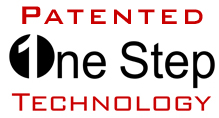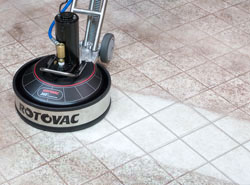 The Rotovac definitely gives you something
new, different and better
to market to your customers. The Rotovac operates like a floor buffer. The motor supplies all the scrubbing muscle for you as the rotary head thoroughly cleans the tile from all directions. When your customers witness the restorative cleaning power of the Rotovac, you will quickly grow your business through word of mouth referrals and repeat customers.
Here's How It Works:
The Rotovac 360i utilizes a unique rotary scrubbing brush with 3 pressure wash spray jets to thoroughly clean and rinse the tile face and the recessed grout lines. A vacuum ring contains all overspray and extracts over 99% of the water. The 360i leaves the floor clean and dry, ready for use or resealing.